On Tuesday evening, Argentina was filled with green graffiti that read "Children, Not Mothers", green banners that read "There will be law" and green bandanas that read "National Campaign for Legal, Safe and Free Abortion". Adolescents and adult women tied the green handkerchiefs of the Campaign to Legalize Abortion around their necks to show their dedication to the cause as they flocked to the streets more than 120 cities. They stood together Vigil For almost 12 hours, the Argentine Senate debated a law to legalize abortion.
Shortly after 4 am On Wednesday, as hundreds of thousands waited on the steps of the palace of the Argentine National Congress, the news came: With 38 votes in favor, 29 against and 1 abstention, abortion has been legalized. Crowds cheered and sobbed with relief. On social media, the once popular hashtag # SeráLey (#ItWillBeLaw) has been replaced with #EsLey (#ItIsLaw). Feminists, not only in Argentina but also in other Latin American countries like Ecuador and Mexico, promised each other that "Latin America will be completely feminist".
Previously, Uruguay, Cuba, and two Mexican states were the only regions in Latin America that for some reason guaranteed a first trimester abortion. In other countries, such as Chile and Peru, abortion is possible under certain circumstances, including rape, incest, deformity of the fetus, or risk to the health of the mother – or, as in El Salvador and the Dominican Republic, completely banned. That is why the abortion debate in Argentina made international headlines in 2018 as millions of feminists waited on the streets for a Senate vote after legislators passed a bill in the Lower House of Congress to legalize abortion. Although the Senate bill narrowly failed, the campaign brought to light a once taboo topic and sparked a nationwide and continent-wide movement to legalize abortion nicknamed the "Green Wave".
The next year, when the presidential elections were held in Argentina, Peronist candidate Alberto Fernández and his fellow campaigner, former President Cristina Fernández de Kirchner, knew they had to embrace the green wave to win the youth election. When Fernández took office in December 2019, he promised to fight for the law.
However, the green wave didn't start with that in 2018 pibasor children who popularized the pro-choice movement. Or even in 2005, when the Feminist National Campaign for Legal, Safe, and Free Abortion submitted its first bill to legalize abortion to Congress in Argentina. It started sometime in the late 1970s when the "Grandmothers"The green wave lived in European exile, awaited the military dictatorship of Argentina and organized themselves with French, Italian, US and other Latin American feminists as part of the burgeoning women's liberation movement.
Öne this grandmother was Dora Coledesky, a Trotskyist labor organizer and lawyer, born in Buenos Aires in 1928 and raised in the conservative northern city of Tucumán. When the dirty war broke out in Argentina in 1976, Coledesky and her husband fled the country like many leftists. When she landed in France, where abortion had been legalized the previous year, she joined the Feminist Revolutionary League, where she organized with Europeans and other exiled Latin Americans from Chile, Uruguay and Brazil. When Argentina's military dictatorship ended in 1984, Coledesky and her feminist colleagues returned – eager to organize for change in their own country. Coledesky himself initially joined the women who stayed in Argentina during the dictatorship – such as Magui Bellotti and Marta Fontela, who founded a group called ATEM 25 de noviembre in 1982, or the Association for Women's Work and Study, which takes place annually in the November met 25.
At the 1987 ATEM meeting, Coledesky was speaking at a round table when a member of the audience asked what steps Argentine feminists should take next, and the idea of ​​organizing a group specifically to fight for abortion rights emerged. A few months later, the Abortion Rights Commission was formally established.
During the years Coledesky had been in exile, the United Nations had begun hosting world conferences on women – in 1975 in Mexico City, 1980 in Copenhagen and 1985 in Nairobi. Inspired by the first conference, US feminists organized themselves a national women's conference 1977 in Houston, in which Gloria Steinem, Bella Abzug, Betty Friedan and Shirley Chisholm participated (and against Phyllis SchlaflysPro family rally"). Returning home safely, Argentina's feminists followed suit and organized themselves their own national women's conference It became an annual meeting that continues to this day as the Plurinational Conference of Women, Lesbians, in Buenos Aires. Travestis, Trans and non-binary files. In 1988 Coledesky led a workshop at the National Women's Conference in Mendoza and introduced the commission to the wider feminist community. There the members of the commission took the opportunity to distribute a brochure about their goals and one reader recommended that they take the project a step further: they should write a bill and submit it to Congress.
In the following years the commission published Essays and MagazinesLed contraception workshops and co-founded International Safe Abortion Day with a group of Brazilian organizers. In 1992, she put her first bill to legalize abortion before Congress – on the street outside a candy store called El Molino, one block away.
"Legislators Alfredo Bravo, María José Libertino and radical lawmaker Gonzalez Gass came," Coledesky said wrote in a reflection on the early days of the Commission. "It was the first time a bill on contraception and abortion was tabled. Spreading and promoting that abortion was legal in other countries was one of the major achievements of the time. "
In 2005 Coledesky and her colleagues renamed the commission the national campaign for legal, safe and free abortion when they finally officially submitted their bill to legalize abortion. Fifteen years later, the National Campaign had put abortion laws to Congress seven times: in 2005, 2006, 2007, 2009, 2018, 2019, and last May.
IIn 2007, Coledesky may have sensed that she might no longer see abortion legalized wrote about the impact of their work:
The truth is that nearly twenty years have passed since the origins of our group and we have not yet succeeded: we have not been given the right to have an abortion. … [But] Given the awareness of important areas of society for our right to make decisions, we can say that we have made progress. We can affirm that although this is not yet expressed in concrete laws and in the face of very powerful enemies, we are no longer alone, but together with many other women.
In 2009, Coledesky died at the age of 81 without seeing the green wave spread across Latin America. After the national campaign took a break from submitting new bills to Congress, the Argentine feminist movement appeared to have stagnated until October 2016 Lucía Perez was kidnapped, raped and killed after graduating from school. That week, feminists gathered at the annual National Women's Conference and immediately began plans for a national women's strike to protest a pattern of gender-based violence. A new campaign, a national movement against femicides called "Ni Una Menos" or "Not One Less", emerged.
From the beginning, Ni Una Menos worked with the National Campaign and saw access to abortion as the key to reducing violence against women. "Deaths from clandestine and unsafe abortion are government femicides," said co-founder Cecilia Palmeiro. After abortion was legalized, "we now demand freedom for all those imprisoned for abortion."
Ni Una Menos inspired protests across Latin America, focusing on domestic violence and sexual assault, and drawing national attention to the feminist cause. Argentine politicians like then President Cristina Fernández de Kirchner were forced to do so calculate with the feminist awakening. And in 2018, even with Argentina under the more conservative presidency of Mauricio Macri, millions turned out to be supporters when the revived national campaign returned to Congress.
"The campaign had done persistent, quiet work on a smaller scale, and what brought Ni Una Menos was popularity," said María Florencia Alcaraz, author of the book Que Sea Ley: Feminism's Struggle for Legal Abortion.
In early February, Fernández announced that he would submit his own version of a bill to Congress just days before millions of feminists march through Mexico, Chile and Argentina on International Women's Day. But then the World Health Organization declared Covid-19 a pandemic and the organization across the continent was shut down.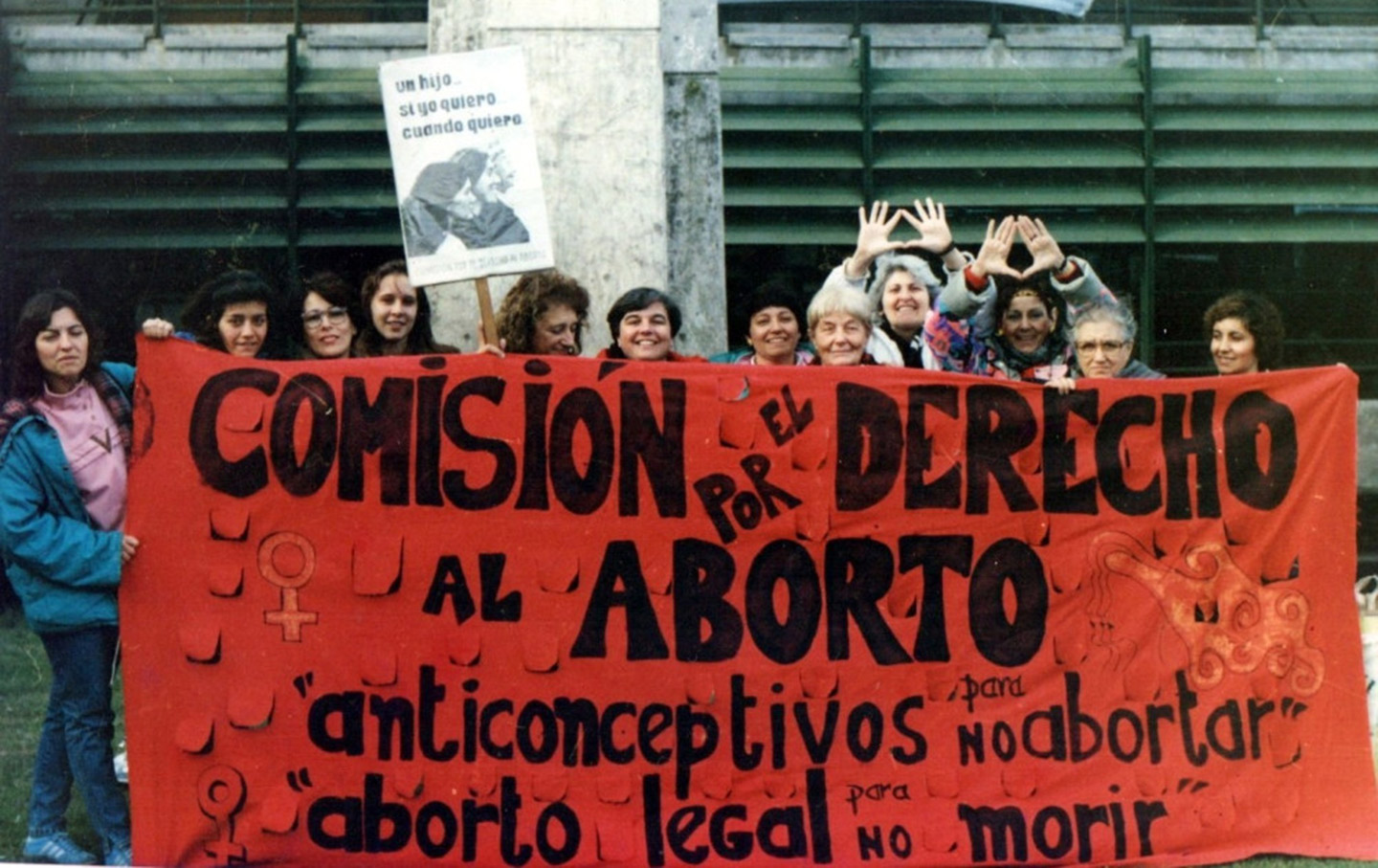 AThe rate of domestic violence increased worldwide and women did a lot of care work. The Argentine feminists urged their government to recognize the disproportionate impact of the pandemic on women. The National Campaign and Ni Una Menos argued that women were facing a reproductive health crisis as part of a public health crisis, calling on the Fernández government to bring their bill to Congress under Covid-19, which it did in November.
By mid-December, the House of Commons had passed the bill and it went to the Senate. The National Campaign was preparing for a vigil, which had not been seen since 2018, and began to take safety precautions to protect the health of the protesters. recall they bring masks and take care of each other.
Two of the women in charge of security were Rosana Fanjul (49) and her daughter Ximena (22) – Dora Coledesky's granddaughter and great-granddaughter.
"When I was 17, I went with her to the table in El Molino two or three times to volunteer," said Rosana Fanjul. "It was 1988, and with a megaphone they asked for signatures to propose a bill to legalize and decriminalize abortion. A word that only existed in the intimate life of women. Now, since 2018, it's been the subject of dinner conversations between friends and family. "
On Wednesday, Fanjul and her daughter hung a huge green headscarf outside El Molino in honor of the generations of organizers who brought them to that moment as they stood with the thousands of others waiting for the Senate vote.
Fanjul said her grandmother's memory stayed with her all day, especially when the campaign played videos of her on giant screens outside of Congress. "Even though I've seen her before, I'm always happy to hear her again," said Fanjul.
Colodesky and her colleagues "began to construct the legal, political, philosophical, scientific and medical arguments that accompany us in our struggle today," said María Jose Corvalán, a member of the National Campaign's press team. "The arguments we have today, the same words that legislators in Congress have spoken in favor of this law, are the same arguments that these pioneers constructed and advanced at that time."
Alcaraz said, just as the grandmothers of the pro-choice movement "brought some of the knowledge and knowledge of [the countries where they were exiled] to Argentina, "she hopes that all Argentine knowledge" will spread throughout Latin America, "which inspires the legalization of abortions from Bolivia to Guatemala.
"The collective force of feminism is the hope for another possible world that we are already putting into practice. For this it is important to maintain and look after our international networks, "said Palmeiro. "We tell our companions around the world who join us in our struggle that we are there for them too. Together we are all one Nosotras. "
.