Six countries were added to the United Kingdom's red list after British scientists said they were concerned about a new variant of the coronavirus.
The variant B.1.1.529 was first found in cases in Botswana, South Africa and Hong Kong.
People who have recently visited South Africa – where the majority of the variants have so far been found – and who have returned to the UK will be contacted to see if they were infected abroad.
Health Minister Stephen Donnelly is "deeply concerned" about the new variant of Covid identified in Africa.
A statement from the Irish Ministry of Health said: "The World Health Organization (WHO) will meet tomorrow to further assess the importance of this variant.
"The WHO has not yet classified this variant as causing concern.
"The ECDC (European Center for Disease Prevention and Control) has reported that it continues to monitor any evidence that emerges regarding this variant."
The statement went on to say: "The department is aware of the measures taken by the UK government, including the suspension of flights from a number of African countries.
"No cases of this variant have been reported in Europe, but the Minister of Health is deeply concerned.
"The department has contacted colleagues in Northern Ireland and we will continue to work with the UK authorities.
"The advice of the department to the minister will continue to be informed by relevant guidelines from the ECDC and the WHO."
Travel Editor of Which? Rory Boland said after the government decided to put six African countries on its red travel list on Friday due to fears about a new variant of Covid: "This worrying news is a reminder that travel is not back to normal.
"The pandemic continues to disrupt passengers' travel plans, often without notice.
"With all flights to these countries being suspended, all passengers will be entitled to a full refund for their vacation or flight if they have booked with a UK or EU airline or any other airline departing from the UK or the EU. Getting a refund for accommodation can be more difficult and depends on the property's policies.
"In the past few days, restrictions have changed in several countries and refunds are not always guaranteed. It is important that travelers choose holiday providers with good, flexible booking policies in case their trip cannot take place. "
Health Minister Sajid Javid said more work was needed to understand how worrying the variant is.
He told reporters, "Our scientists are deeply concerned about this variant, and from what we know about it now – and again we have a lot more to learn and test the live virus – but from what we know there are sizable numbers of mutations, maybe twice the number of mutations we saw in the Delta variant.
"And that would suggest that it might be more transmissible and the current vaccines we have might be less effective."
– When did it first appear?
British scientists first became aware of the new strain on November 23, after samples were uploaded to a website tracking coronavirus variants from South Africa, Hong Kong and then Botswana. A total of 59 samples have been uploaded to the website so far.
Three samples come from Hong Kong, three from Botswana and the rest from South Africa.
Outlining the situation in South Africa, a senior scientist said, "If we look at the results they had up to a week ago, in many areas less than 1% of people tested positive. That has risen dramatically to 6% in the last few days, and that makes me very concerned about the people who might arrive [in the UK] now."
– Are there any cases in the UK?
There are currently no cases in the UK, Health Minister Sajid Javid confirmed.
He added, "The early clue we have for this variant is that it may be more transmissible than the Delta variant and the vaccines we currently have may be less effective against it.
"Well, to be clear, we didn't see any of these new varieties in the UK at this point.
"But it was always clear to us that we would take action to protect the progress that we have made.
"Our scientists are deeply concerned about this variant. I am of course worried, that is one of the reasons why we took these measures today. "
– Has any of these countries been placed on the red list?
Yes sir. Flights from South Africa, Namibia, Lesotho, Botswana, Eswatini and Zimbabwe will be suspended from Friday afternoon and all six countries will be placed on the red list.
– What does this mean for travelers?
The British and Scottish Governments, as well as the Northern Irish Executive, announced on Thursday that British and Irish residents who arrived in England between Friday noon and Sunday 4 a.m. and stayed in the six countries in the past 10 days for 10 days Quarantine at home and do NHS-PCR tests on Day 2 and Day 8, even if they have already booked a lateral flow test.
Passengers – including residents of the UK and Ireland – who arrive at 4am on Sunday must book and pay for a government approved hotel and quarantine for 10 days. They also have to take tests on day 2 and day 8.
Direct flights from the six nations to Great Britain will be temporarily banned until 4 a.m. on Sunday after the quarantine hotels have been set up.
How transferable the new variant is is currently not known (Liam McBurney / PA)
As of Friday 26 November at noon, non-UK and Irish people who have visited the countries in the past 10 days will be denied entry to England.
– How does it differ from the other variants?
Although the virus has only been tracked for the past three days, 30 different mutations have already been identified. In comparison, that's twice as many as the Delta variant, which has been the most prominent variant in the UK in recent months.
The mutations contain features that can be seen in all other variants, but also features that have not been seen before.
– Will the vaccines protect people from it?
It's too early to tell. The mutations could potentially make the variant more transmissible and bypass the protection of prior infection or vaccination.
– Was it classified as a "questionable variant"?
Not yet by UK scientists as they do not have enough evidence of the degree of transferability, however some have stated they are concerned.
Professor Ravi Gupta, Professor of Clinical Microbiology at the University of Cambridge, said: "B.1.1.529 has signatures of a cumulative mutation that suggest it was caused by a chronic infection.
"B.1.1.529 certainly looks worrying because of the mutations that are present. Many have been shown to affect binding by neutralizing antibodies, and some are known to increase the ability of the virus to enter cells or to fuse them together to allow cells to spread. "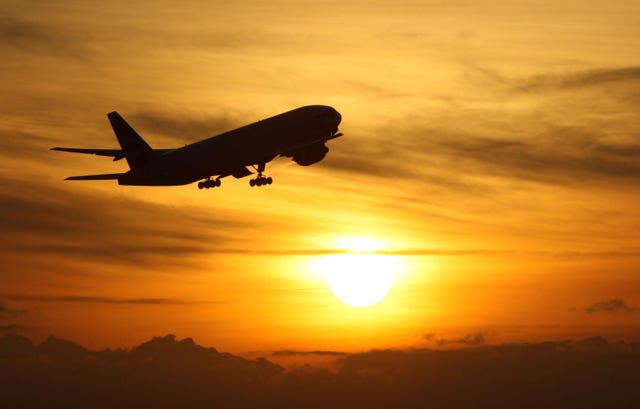 People who recently returned to the UK from South Africa are invited to special tests (Steve Parsons / PA)
Professor Neil Ferguson, member of the Scientific Advisory Group for Emergencies (Sage), said, "Variant B.1.1.529 has an unprecedented number of mutations in the spike protein gene, the protein that is the target of most vaccines.
"There is therefore a concern that this variant has a greater potential to evade earlier immunity than previous variants.
"However, we do not yet have any reliable estimates of the extent to which B.1.1.529 could be either more transmissible or more resistant to vaccines, so it is still too early to be able to provide an evidence-based risk assessment."
It is known as the "variant under observation," which means that scientists believe it may pose a future risk, but its effects are unclear.
– How concerned should we be about this variant?
Scientists in the UK are keen to acquire live cultures of the virus so that they can be studied, but it takes time. It can take at least seven to ten days to grow enough virus to share with other scientists so they can study how it mutates and changes.
Officials now also have to wait for data from South Africa. You expect two to three weeks at the earliest, but it could also be four to six weeks.
.